News
Bitcoin, BNB, Major Stablecoins Added by Samsung Galaxy S10 with Wallets Automatically Generated for Phone Owners
Initially, the Korean electronics giant Samsung released its flagship Galaxy S10 smartphone with support for Ethereum and ERC-20 tokens only. However, earlier in August, it added Bitcoin to the list, and now more currencies have landed their presence on this blockchain device, as reported by South Korean media.
Bitcoin, BNB and stablecoins at your service on Galaxy S10
Among the coins that have been added to the Samsung phone, apart from Bitcoin, are now Binance Coin (BNB), and the major stablecoins, such as TrueUSD (TUSD), Maker (MKR) and USD Coin (USDC). All in all, 33 digital coins are now supported by the smartphone.
Basic Attention Token (BAT) used by Brave browser for rewarding its users for watching ads.
Recently, the browser has added a tipping option – content makers on Twitter will be able to earn BAT from readers for their efforts on the social network. Earlier, Brave had executed the same for YouTube and a few other platforms.
Now, Brave browser users will find it even easier to store and utilize their BAT on Samsung's Galaxy S10 phone.
Wallets for Bitcoin and Ethereum will be generated on the device automatically.
A Reddit user has posted a screenshot of his crypto wallets on a Galaxy S10, showing wallets for some of the coins mentioned above.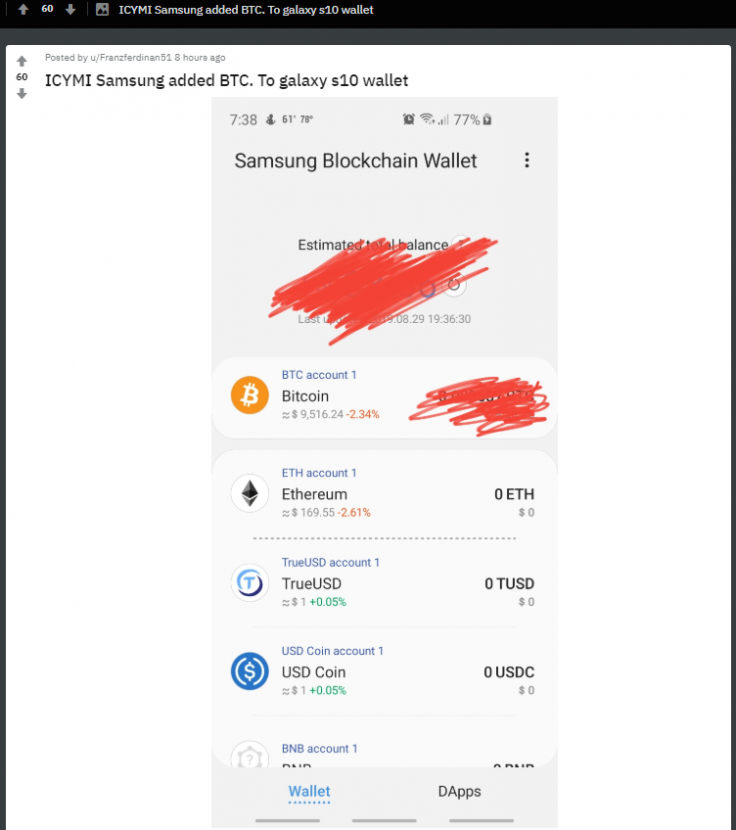 The source also refers to the spokesperson for Samsung Galaxy who says that clients will soon get a tool for setting up crypto wallets for coins used on Samsung-affiliated decentralized apps.