Events
"Chains Beyond Borders" Unveils New Horizons in the Blockchain Investment Landscape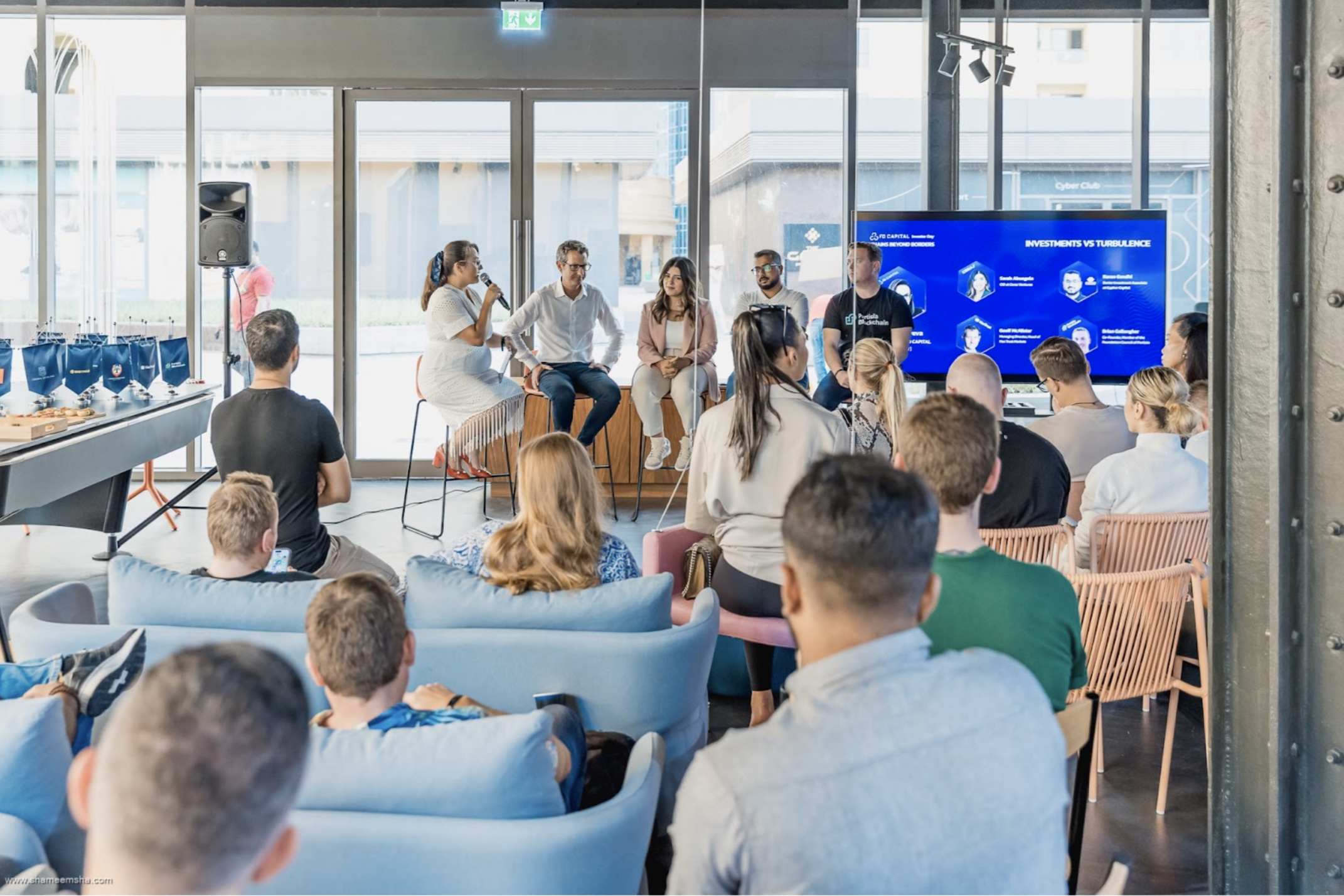 Dubai, UAE – November 3, 2023 – "Chains Beyond Borders" captivated investors and leaders in the blockchain industry at the highly-anticipated FD CAPITAL Investor Day held in Dubai on November 1, 2023. The event adopted a hybrid format, featuring a physical gathering at the Cypher Capital Hub in Dubai, complemented by an exclusive online segment via Zoom, offering a unique experience for over 100 attendees.
The panel discussion, titled "Investments vs. Turbulence," was skillfully moderated by Dariia Vasylieva, Founder and CEO of FD CAPITAL. Esteemed speakers, including Sarah Abuagela, CIO at Ceras Ventures, Karan Gandhi, Senior Investment Associate at Cypher Capital, Geoff McAlister, Managing Director at Hex Trust Markets, and Brian Gallagher, delivered cutting-edge insights on the primary drivers for blockchain industry growth in 2024, key indicators to gauge market sentiment, and the current investment landscape. Their presentations left the audience captivated and enriched.
The online stage featured an outstanding lineup of thought leaders in the blockchain space, including Robert Edward Grant, Evan Luthra, Aishwary Gupta, Matt Schmenk, Fabio Tomaschett, Kyle Rojas, and Mehmet Buyukakarsu, offering multifaceted perspectives on various facets of the blockchain landscape.
"In today's challenging global environment, it is essential that we foster connectivity, innovation, and positive change through collaboration. Sharing breakthrough ideas and bold visions for a new cooperative worldview is a step in the right direction," says Robert Edward Grant, Founder at Crown Holdings.
"Chains Beyond Borders" received unwavering support from esteemed partners such as Cypher Capital, Albus Protocol, GOSH, Aureli Ventures, and the Romanian Business Council in the UAE. The event was further amplified by a range of media partners, including Luna PR, IBC Group, AIBC, and leading platforms like Pro-blockchain Media, cryptorank, BeInCrypto, VNTR, Crypto Data Space, Heir Story, BlockDelta, Crypto Executives, TheNewsCrypto, BlockBeats, and more.
Dariia Vasylieva emphasized the broader vision behind "Chains Beyond Borders," stating, "By transcending borders, our goal is to empower the blockchain community to unleash its potential, creating a transformative impact on investor relations practices and beyond, fostering strategic partnerships and new investment opportunities."
FD CAPITAL collected feedback from multiple visitors, with many attesting that the event was well-organized and offered quality networking opportunities.
About FD CAPITAL:
FD CAPITAL is a blockchain-focused investment company that empowers investors by providing access to the rapidly evolving blockchain industry. The mission of FD CAPITAL is to bridge the gap between traditional finance and Web3, unlocking the vast potential of blockchain technology. Learn more about FD CAPITAL at https://fdcapital.io/.