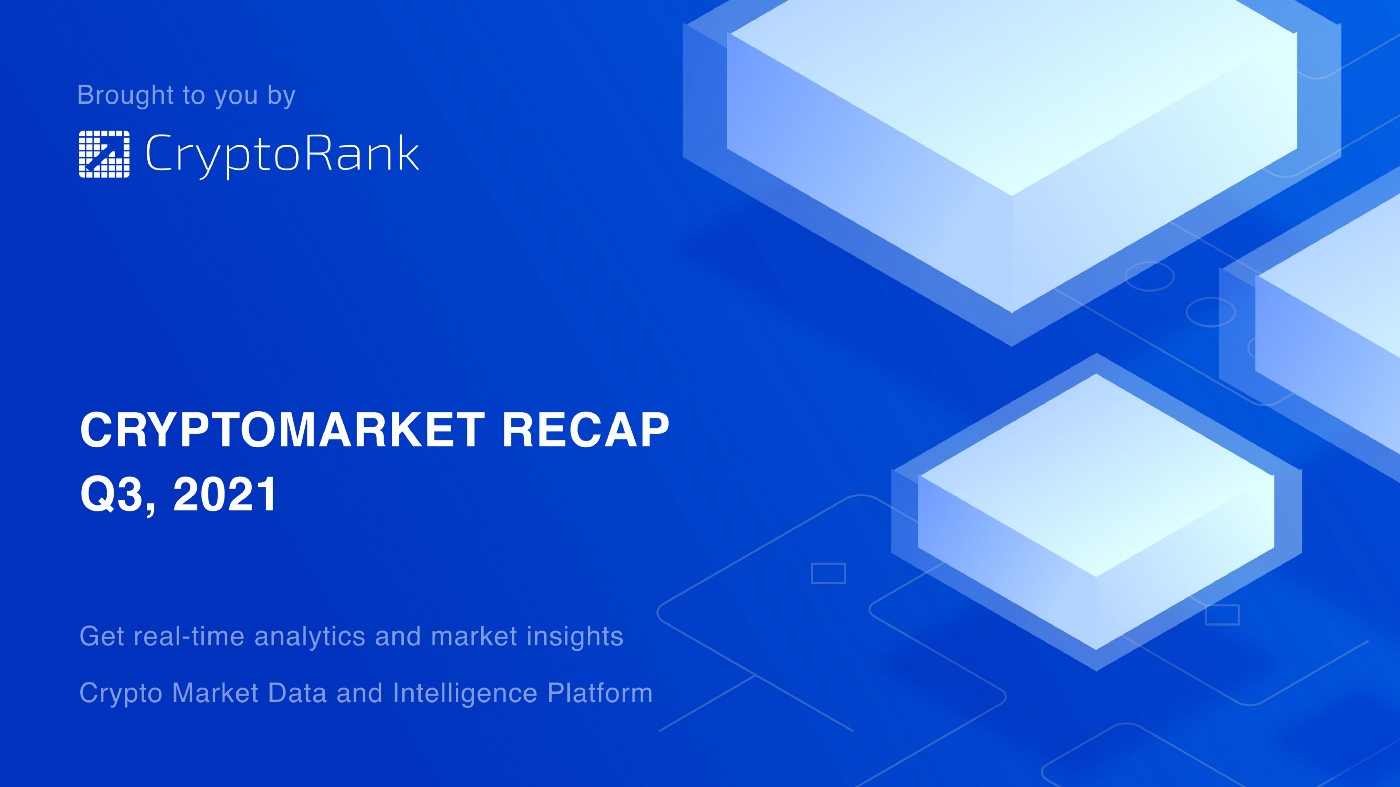 It was a bullish quarter for the cryptos. CryptoRank's team has collected the most significant market updates and trends that are worth noting from Q3. Take a look into the latest market intelligence and in-depth reports about popular blockchains and digital assets.
Highlights from Q3
Capitalization of the cryptocurrency market rose to $2t
The total value locked in DeFi surpassed $180B
The current supply of stablecoins crossed $125B
Uniswap has restricted access to certain tokens
MetaMask said it is open to creating its own crypto token
China's central bank has said that all cryptocurrency-related transactions are illegal
Twitter rolled out bitcoin tipping for iOS users via Lightning and is looking to NFTs for the future.
Market Overview
After a 3-month long bearish market in Q2, the capitalization of the cryptocurrency market increased to its highest level of the year at $1.92T, which represents a growth of about 34.2%
Data source: Cryptorank.io
At the same time, the stablecoins market capitalization has surged past $125 billion and set a new ATH of $129.5 billion. The sharp growth in stablecoins suggests that crypto market participants are increasingly deploying funds, including in areas such as derivatives and decentralized finance (DeFi).
Data source: Cryptorank.io
Hard fork London and EIP-1559
Q3 marked an important milestone in Ethereum's evolution with the London Hard-Fork and numerous proposed updates. Among them, EIP-1559 is the most notable update. It included a proposal to improve transaction savings based on the network density, and another proposal to burn a portion of Ethereum's transaction fees to mitigate the impact of inflation on ETH price. This tTransaction fee-burning mechanism has resulted in $1.1B of ETH being removed from the network's circulation since it came into effect. According to Ultrasound.money data, OpenSea leads, followed by Uniswap V2, Tether, and Axie Infinity.
Data source: ultrasound.money
Total Quarterly Trading Volume Decreased by 37%
In the 3rd quarter, the total trading volume of derivatives volume and adjusted spot volume of the top-10 exchanges – showed a decrease of ≈37%, in comparison, Q2: decreased from $22,6T to → $14,2T.
Data source: Cryptorank.io
DEX volumes also decreased by 34% in the third quarter after experiencing considerable parabolic growth over the past year.
Data source: Cryptorank.io
Derivatives Overview
The explosive growth of the DeFi sector, together with the market uptrend, triggered a significant increase in Ethereum futures, which led to an open interest record of over $9.1B.
Data source: Cryptorank.io
As a result, the daily volume of Ethereum futures reached the highest values ​​of the previous quarter. 
Data source: Cryptorank.io
The decentralized exchange dYdX has been securing its share of the derivatives market. Over the past few days, trading volume on the platform reached ~$9 billion, and open interest approached $500 million.
The project's native token of the same name has renewed its ATH at $27.66
Data source: Cryptorank.io
Decentralized Finance
As a result of incentive programs, the total value locked also changed significantly in DeFi, money continuously poured into new ecosystems during Q3,2021.
Data source: Defillama.com
Thanks to several recent DeFi fund and initiative program launches, the combined total value locked in all DeFi protocols has passed $180B
Data source: Defillama.com
Worth noting among these new ecosystems are Avalanche, Solana, and Fantom, with steady growth in both market capitalization as well as TVL.
IDO Platforms Overview
Thanks to market conditions, most top-tier fundraising platforms are showing average positive results for their current ROI of IDOs conducted on them.
Data source: Cryptorank.io
Launchpad platform native tokens are also showing great results.
Data source: Cryptorank.io
Despite having roots that trace back to the very beginning of cryptocurrency, GameFi is only just starting to attract mainstream attention. The success of one of its flagship titles, Avie Infinity, accurately reflects the growth of this niche.
Data source: Cryptorank.io
---
The latest market intelligence and in-depth reports in our Telegram channel and Twitter