Experience the full capacity of CryptoRank by exploring the robust tools on our updated Mobile App. We've enhanced our application with exciting features that will streamline your crypto journey.
Here's what's new in the mobile app:
A revamped design
A central tab for quick access
A CryptoRank Research and news aggregator now in-app
Updated price charts
And more!
A Fresh Look
We've given our mobile app a makeover. This isn't just a cosmetic upgrade – we've also added some great new features. The standout is 'Stories,' which keeps you informed about notable updates, new features, and breaking news through vibrant and informative slides.
Our visual enhancements serve a purpose. They're designed to make your user experience more comfortable and efficient. We've introduced more contrast and color to help you concentrate on key data. Plus, we've added more animations and a hidden footer for optimal screen usage.
Quick Access Central Tab
We've introduced a 'Central Tab' in our app's latest version. Tap the CryptoRank logo, and you'll have instant access to the primary features:
Token Sales: Stay updated on past and future IDO, ICO, and IEO.
Funding Rounds: Access our database of recent crypto VC investments.
Alerts: Set up and manage price alerts.
Earn Hub: Collect Spaceships and earn rewards.
Research: Access in-depth reports and analysis, along with a news aggregator.
Research Hub and News Aggregator Now In-App
Our Research Hub is now conveniently located within the app. Get the latest market insights and analysis from our CryptoRank research team. Plus, you can customize your news feed by selecting your preferred media sources in our news aggregator.
Enhanced Price Charts
We've upgraded our coin price charts, making them more visually appealing and easier to comprehend. You can now compare the price performance of two coins by using the 'Compare' feature. This allows you to contrast price and market cap charts and market data.
Other Updates
Along with the major updates, we've made some smaller enhancements:
We've revamped the coin's fundraising page design. You can now easily access key stats on total raises and valuations.
You can set an alert to remind you about your daily Spaceships reward.
The 'Coins' page now features lists of gainers, losers, and coins that have reached new ATH or ATL.
Now you can to switch between six fiat (USD, EUR, RUB, TRY, VND, UAH, CNY) and four crypto (BTC, ETH, USDT, USDC) currencies as your main currency.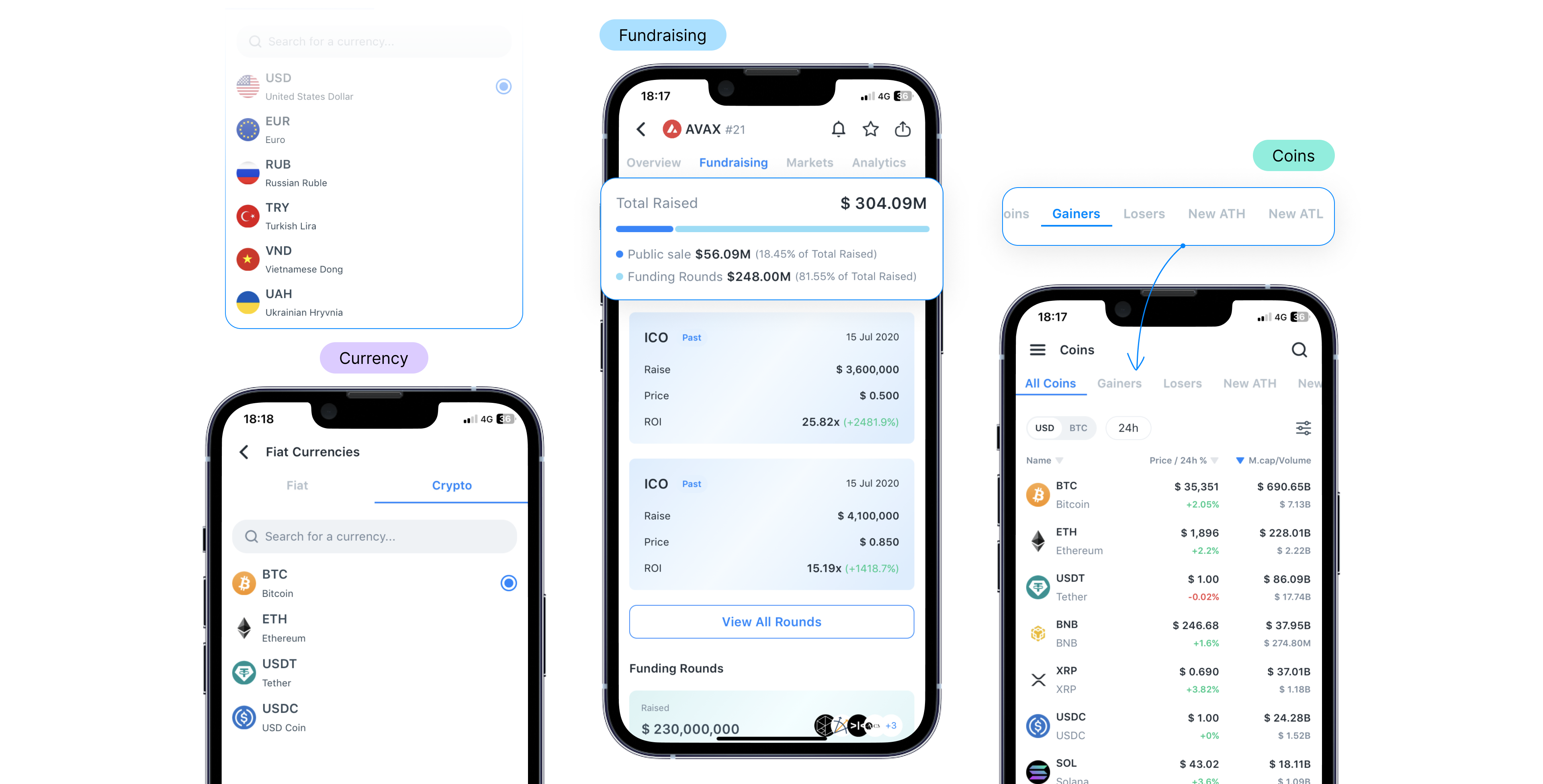 Download our Mobile App now!
App Store: https://apps.apple.com/us/app/cryptorank-tracker-portfolio/id1609951971
Google Play: https://play.google.com/store/apps/details?id=com.cryptorank