Demole is a vast monster play-to-earn NFT game that also explores the traditional gaming market.
On October 13, Rae Lim, CMO of Demole joined us to answer our questions.
---
Rae L, CMO of Demole
I have experience as a digital asset advisor, marketing manager, and investor relations manager in Singapore. In addition, I have managed various corporate social responsibility projects in British multinationals. I have joined Demole at a very early stage as a CMO
---
Questions from the CryptoRank team
---
#1. Can you tell us about Demole? What problems do you solve, both in the space and for the community?
Rae L.: – There are many NFT games now but not many of them meet the standard of the traditional gaming market. That's the reason why many of them disappear quickly within 1 month after launching. We do not want to limit Demole into the NFT gaming market, but also want to explore the traditional gaming market, which was nearly $200 billion last year and almost 200 times bigger than the NFT market. By becoming one of the very few NFT games that can connect 2 markets, we are confident about the future of the project. Here are some problems of the NFT games now that we will solve: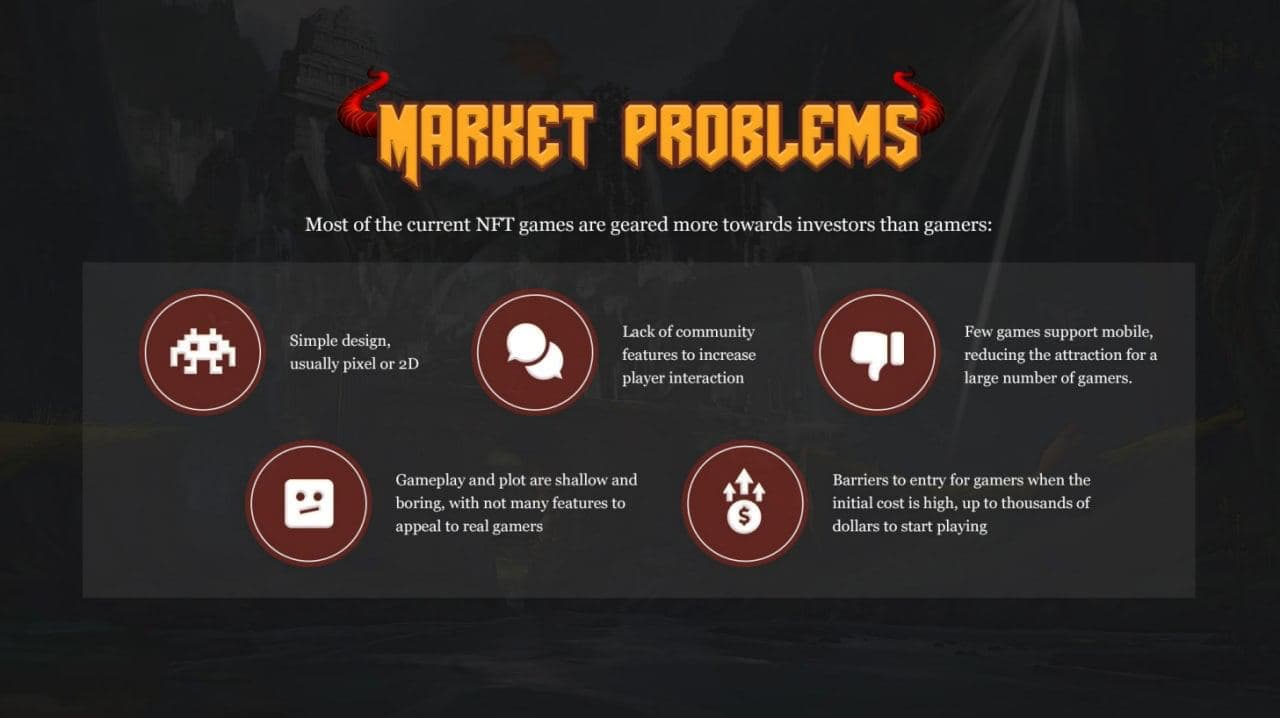 #2. Could you shortly describe the milestones Demole has achieved, and about your upcoming plans?
Rae L.: – We have a clear roadmap for the development of Demole and we are confident that Demole will be a huge explosion for the NFT game community. 
Being one of the first NFT games that offers a true 3D game, providing 3-dimensional artwork, our desire is to bring the best value for investors and gamers. Besides, we have been carrying out huge marketing campaigns, and at the same time, we have a very strong team of marketing partners ready to support Demole. In essence, Demole is very competitive in the general market so to the moon is a predictable thing.
---
Questions from Twitter
---
#1. Can you tell the community about tokenomics, token utility, and TGE?
Rae L.: – We have decided to go with Flat metrics, in which the prices of all rounds are the same.
We believe that the success of an NFT game lies on the end-user base, so letting them buy tokens at a fair price (compared to seed and private investors) is essential. And all of our investors share the same vision and (luckily) we do not have any problem with the fundraising.
For the token utility:
When more features are released in the future, the more utilities the token will have. By doing so, we can guarantee the high demand for the tokens. Meanwhile, the revenue redistribution mechanism will ensure the token supply. The TGE will be within this month and the launch will be very soon after that. Do not forget to check our social channels for the latest news.
#2. Could you please provide information about Demole Earning mechanisms?
Rae L.: – Earning mechanisms are the backbone of any NFT game. In Demole players can earn by the following mechanisms: by participating in in-game activities Campaign, World Boss, Arena, Daily quests, players will receive eggs, hammers, and tokens, which can be used or freely traded/sold with other players on the marketplace. Players/Investors can also go to the Training Ground, a staking pool where they put their monsters and tokens to level up the monsters while receiving more tokens passively.
#3. What are the features and advantages of Demole compared to most projects currently on the market? Why I should invest in Demole?
Rae L.: – The strengths of an NFT game can be seen more easily when we put ourselves next to other NFT games available on the market today.
Let me go deeper into 2 Unique Selling Points of Demole:
Revenue redistribution mechanism – we divide in-game spending into these parts: burning – this will benefit the investors; part will go to the team as a fund for developing the future features; in-game rewards – the more people spend, the bigger reward for every gamer.
Financial model – Many NFT games have dead ends because their financial models were more suitable for traditional games than for NFT games – where token values and in-game asset inflation rates are crucial. We have brought in professional financial teams who will build the model and observe the ecosystem on the daily basis.
---
Questions from Telegram
---
#1. Collaborations and partnerships are some of the most important cornerstones to help improve adoption. Could you please tell us about the current partners, plans for partnerships, and what everybody stands to gain from these partnerships?
Rae L.: – We call what we are doing is ecosystem expansion, we work not only with VCs and marketing partners but also other kinds of partners, including wallets for integration, gaming guilds to expand the end-user pool, and even gaming platforms. Our partners are Good Games Guild, DAO Maker, Momentum 6 among others.
#2. Most investors focus only on the short-term price of the token instead of the actual value of the project. So what are the benefits for long-term investors in the project?
Rae L.: – This is the problem for any crypto project, and even more severe for an NFT game. There are several things that we believe will bring benefits to long term investors:
Redistribution: burning parts will make the total supply decreases > bringing more value to the tokens and benefits for stakers/farmers/gamers.
The game will be launched very soon: instead of selling ideas and promises, we will launch the game next month. More users, more demand for the tokens.
#3. Are you a global project or a local project? At present, which market are you focus on, or is it focused on building and growing to gain customers, users, and partners?
Rae L.: – Demole is an international project, a game that has a small entry barrier and is easy to earn while playing. We define Demole as the game for everyone without any restriction.
---