Forward Protocol employs an easy-to-use WordPress-like model to facilitate a no-code environment that provides blockchain toolkits that connect the value-driven economy.
On December 13, Mitch Rankin and Karnika E. Yashwant (Mr. KEY), Co-Founders of Forward Protocol joined us to answer our questions.
---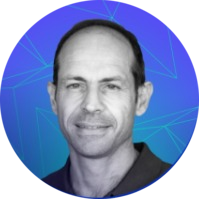 Mitch Rankin, Co-Founder of Forward Protocol
My background is in international businesses and working with investors. I came across blockchain in 2018 and realized the power of building a system with gamification and blockchain rewards could revolutionize the way value was transferred in the economy.
---
Karnika E. Yashwant (Mr. KEY), Co-Founder of Forward Protocol
I have been running a Marketing Agency for the last 15 years and have worked with Fortune 100 brands like CISCO, AJC, etc. Since 2013, I have been involved in Blockchain Marketing.
---
Questions from the CryptoRank team
---
#1. Can you tell us about Forward Protocol? What problems do you solve, both in the space and for the community?
Mitch R.: – Forward Protocol is the WordPress for Web 3.0: Blockchain adoption for everyone. Forward Protocol features blockchain toolkits requiring no code or technical knowledge that will enable anyone to create and participate in Decentralized Value-Driven Economies. By using a similar model to that of WordPress, Forward Protocol will help increase blockchain technology adoption and its capabilities. These toolkits are blockchain agnostic, industry agnostic, bull & bear agnostic, adoption focused, and can be deployed for free. Their goal is to create a protocol that is simple to use with no code or technical knowledge needed, allowing users to deploy their own app – in any EVM chain – with no programming skills.
Forward Protocol will tap into several markets to make this a reality: DeFi, NFTs, Social Tokens, Gaming, e-Learning/EdTech, E-Commerce, Artificial Intelligence, Machine Learning.
#2. Could you briefly describe the milestones Forward Protocol has achieved, and about your upcoming plans?
Mitch R.: – Looking at the general picture, we have designed a project with unique architecture, a real use case, with an actual user base (millions in fact, due to our partners).
We have established strong partnerships (such as Polygon, MahaDAO, DAOMAKER, Unilend in the crypto community; and our genesis deployment partner, English Forward – a 19+ years old platform that has served 310M+ users – and Oxford, Cambridge, and Singularity University ). We have 33+ partners and are growing.
I will give you an idea of one of our integration partners with millions of users.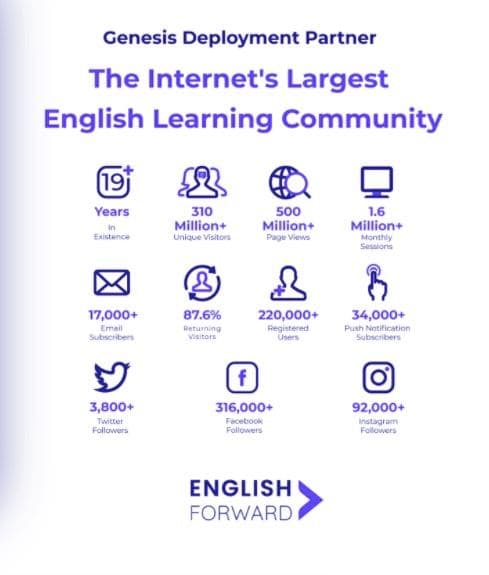 Looking into the future, we are working hard to have a very successful closeout to the year. We will:
Conduct the Forward Protocol IBO
Deploy the staking and LP contracts
For Q1 2022 we plan to:
Deploy ⅗ of our core smart contracts (Proof of Value-Delivered (PoVD)/ Proof of Value (PoV) / Initial Knowledge Offering (IKO) )
Deploy FUSD stablecoin contract
Deploy our Open Source Q&A application
Integrate with EnglishForward.com
Release the remaining ⅖ core smart contracts (Distributed Reward and Revenue Sharing (DRRS) + Proof of Ownership (PoO) )
Deploy Forward Factory & Forward Pay
Deploy our Decentralized Course Marketplace and Decentralized Freelancing Marketplace
Sign at least 3 New Partners.
---
Questions from Twitter
---
#1. What is the role of tokens in the ecosystem? Where can people currently buy it? For what it will be used?
Mitch R.: – FORWARD is utility, governance, and reward token. It's used to pay for protocol fees and transaction fees on Forward Chain. FORWARD token is similar to the BNB of Binance. The more tokens a person holds, they get the opportunity to participate in more areas in the ecosystem and will benefit from lower fees. CEX is to be announced soon!
#2. You said that Forward Protocol uses a WordPress-like model. Can you tell us what advantages this model provides and what conveniences it brings in terms of interaction features?
Mitch R.: – WordPress is simple to use right? Blockchain Adoption can only happen if it's made super-simple for anyone – with no technical knowledge to deploy applications and use them in their life and business. For the general population to use dApps without the complexities. Can our non-crypto friends use it from day 1? That's the question I always ask. Making that happen is the objective. To get blockchain in the hands of every organization, person, and user. The solution is simple. To create an ecosystem like that of WordPress, where anyone can drag and drop, use user interface and create their applications. Without technical knowledge, they should be able to deploy dApps and integrate them with their product/ecosystem/business. We are not here to create the next fastest or best technology. The crypto community has all those amazing smart people doing it. All we are doing is to connect all those amazing techs to the rest of the non-tech world. We act as a bridge that connects – making things simple for the larger world to join and use it.
We are focusing on real-world entities and communities. They are new to crypto and we focus on bringing them on.
#3. How does the project increase the token's value, liquidity, and utility? So that it can lead to an increase in token prices? What is your plan to make your project stable and provide the highest return for investors in the long term?
Mitch R.: – On token utility, there is a lot to talk about. Of course, we will have staking with interesting APR (we will be publishing details shortly). Yes, we will have it to reward the community members. But we want to have more real utility in the ecosystem. That's why Forward Protocol ecosystem has a lot of utilities and is the core of the economy. Every platform using Forward Protocol will be giving FORWARD as a reward which they have to buy from the market to reward their users. All smart contracts will acquire tokens from the open market as necessary to fulfill the transaction. So now imagine 20 partners deploying smart contracts from Forward Protocol. And each has millions of users (like all our existing partners). Now, these contracts provide rewards every hour or day as configured by the deploying partner. All contracts will be buying Forward tokens from the market to give those rewards. These partners are in the real world. So even if the crypto market is bearish, they cannot stop their business or application. So they will keep buying tokens to reward their users – as it's automatic. That's why FORWARD tokens are at the heart of Forward Protocol Ecosystem and its bear-agnostic – it will perform in both bull and bear markets because it's essential for the applications to work. Forward Chain will use it as transaction fees as well. As FORWARD is the native token of Forward Protocol Chain which will go live in 2022.
---
Questions from Telegram
---
#1. Can you list 1-3 killer features of Your Project that make it ahead of its competitors? What is the competitive advantage your platform has that you feel most confident about?
Mitch R.: – We don't believe currently there are any competitors for the project. Forward Protocol provides the blockchain solution that connects the value-driven economy. We don't compete with the content creators or other platforms but collaborate with them giving them a platform to launch their blockchain applications.
#2. The vast majority of Crypto projects are built just for the sole purpose of amassing wealth for themselves. So, I want to know the value you aim to add to the crypto industry that will bring greater abundance to the industry?
Mitch R.: – Forward is not a token, it is a vision of impacting 1 Billion lives positively. We build open-source Web 3.0 toolkits that anyone uses to adopt blockchain. We need the community to help us realize this vision.
#3. Revenue is an important aspect for all projects to survive and sustain. So how does your project plan to generate profit and revenue?
Mitch R.: – There are 2 primary revenue streams:
Every transaction on the Forward Chain will have a fee, and $FORWARD will be used to pay the transactional fees. (Once Forward Chain is live on mainnet)
There will be a percentage of fees for all smart contract services. For example, if someone uses an escrow service with the Proof of Value – Delivered model, Forward Protocol will charge a small fee for all transactions (decided on each independent use case and volume metrics). Each of the 5 smart contracts will have a "fee" which will act as a scalable-revenue model with more integration partners added, each with its own growing user base.
---