News
KuCoin 3 Year Round-up: Main Products and Achievements
On September 5, 2020, KuCoin celebrated its third anniversary. It went live for the first time in September 2017. Since its debut, KuCoin has grown very swiftly, and so far, it's one of the Top-10 crypto exchanges in terms of CryptoRank.io's adjusted trading volumes. 
CryptoRank's team has prepared an overview of KuCoin's 3 years of operation on the crypto market. Let's take a closer look at KuCoin and what sets it apart from the rest.
KuCoin has grown rapidly since it launched and already has over 6 million registered users worldwide. There are 475+ trading pairs and 250+ currencies listed on KuCoin, with the exchange's trading volume above 4.5 billion USD monthly. 
Amid the variety of products and services provided by the KuCoin platform, we would like to highlight the following:
In February 2019, KuCoin released its upgrade to the KuCoin Platform 2.0, which features the exchange apps for iOS and Android to keep users trading on the go. One of the unique and interesting features in the KuCoin app is the Red Envelope by which you can give your cryptocurrency to friends as gifts, and they will receive the cryptos for free. 
Among other improvements are: 
More Attractive

Fee

Program;

The simplification of the KYC;

Improved security solutions.
It is worth noting that, unlike other major exchanges, KuCoin has yet to experience any hack or breach in security.
KuCoin Shares [KCS] and KCS Bonus
KuCoin Shares (KCS) are the native token of the KuCoin exchange that allows holders to profit from its earnings. KuCoin spends 50% of all trading fees gained to buyback  KCS from the market and redistributes the revenues every 24 hours as dividends to investors who hold at least 6 KCS. The more KCS tokens the user holds, the more dividends they'll receive.
Additionally, by paying the transaction fee with KCS, the traders enjoy a 20% discount on the transaction fee in KuCoin spot trading and margin trading.
For the last two years, KuCoin Shares have shown positive performance.
KuCoin Spotlight 
In March 2019, KuCoin launched a token crowdfunding platform – Spotlight, that aims to assist projects from the crypto sphere in fundraising, attracting community attention, and developing influence. KuCoin Spotlight has currently launched seven projects: 
Current and ATH ROI in USD of Spotlight Projects listed on KuCoin: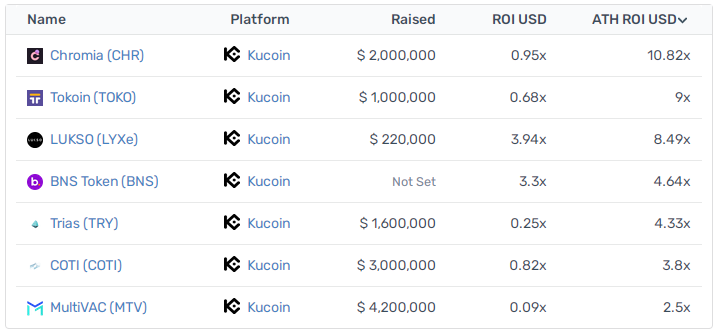 According to CryptoRank's data, on average, all KuCoin projects show positive profitability. This means that the exchange has carefully selected quality projects for token sales.
Current and ATH Average Returns since IEO (ROI) by Exchange Platforms in USD
KuCoin launched the next round of the Spotlight token sale with Velo (VELO) on September 17.
Velo is an open financial protocol that aims to build a decentralized settlement network that allows partners to safely and securely transfer value between each other in a timely and transparent way. Supported by dozens of leading Asian corporate groups, like Lightnet, UOB Ventures, Seven Bank, and HashKey Capital, Velo is expected to become the first blockchain project that brings DeFi to the masses. 
Pool-X Staking and liquidity trading market
Pool-X was officially released in August 2019 as a PoS platform that provides liquidity for staked crypto. By supporting lockup-crypto transactions, it aims to stimulate the future development of the PoS ecosystem. Services offered by Pool-X include:
Node Supermarket

Soft Staking

Node and Staking mining

Liquidity trading venue and pool

LockDrop: users lock tokens and get airdrops
POL (Proof Of Liquidity) is a token issued by the Pool-X platform and is based on TRON's TRC-20 protocol. 
Investors can gain a share of  [POL] tokens by locking the supported cryptocurrency of Pool-X (LockDrop) or through the possession of Staking or POL Node Mining.
POL generated from platform operation and other income will be utilized for POL buyback and will ultimately be burnt.
Pool-X Staking Products by Annual Yield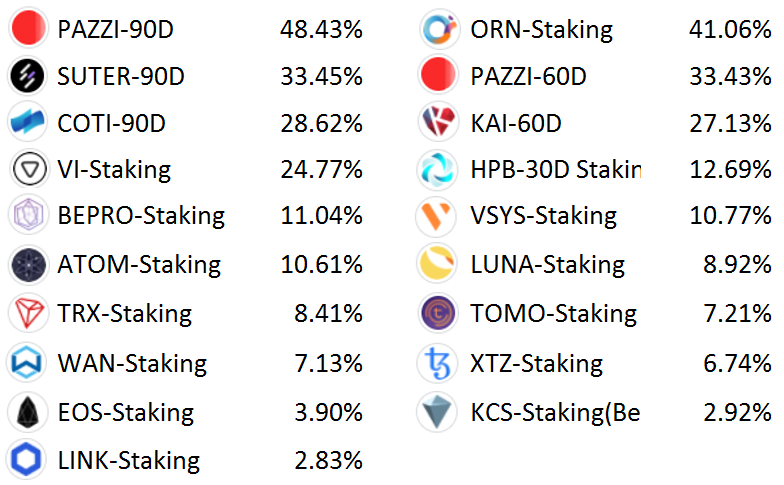 Instant Exchange Service
In February 2020, KuCoin launched the Instant Exchange service allowing instant crypto transactions for BTC, ETH, LTC, XRP, BCHABC, and USDT.
The main benefits of the Instant Exchange service that vary it from traditional crypto-to-crypto trading:
There is no transaction fee, which can greatly improve transaction efficiency and reduce transaction costs

The price shown on the service page will be the final transaction price

An immediate settlement of submitted orders that can be completed in 1 second

Supporting of large orders, which will not cause large price fluctuations in KuCoin's spot market
KuChain Testnet –
Kratos
In July 2020, KuChain launched its Betanet Events Phase I. KuChain is a financial public chain supported by KuCoin Group. Kratos is the KuChain testing network. KuChain and Kratos are oriented to the needs of DeFi providing more stable infrastructure for decentralized applications.
Following the close of Betanet Events Phase I, Kratos is now about to step into Phase II – a public test on the economic model and governance of the network. Kratos test token (KTSt), serving the role of testing intermediary, will be distributed in a form of LockDrop, into which the interested users may participate via Pool-X platform during the KuCoin 3rd Anniversary Celebration month. Later on, holders of KTSt may also vote for test validating nodes and earn staking rewards in the public test environment.
Closing thoughts
The last three years were an enthralling time for traders since crypto markets displayed increased demand and volatility. Thus, the right choice of a trustworthy and reliable exchange for risk-hedging is far more critical than ever before. There is every chance that the KuCoin exchange arises as to the industry-standard choice on the crypto market due to the further expansion of its ecosystem in the near future.
---