Uncategorized
Low Market Cap: Weakness or Potential Opportunity?
Projects with low market capitalization often fail to attract the attention of crypto investors. Low cap can indicate the weakness of the project and the lack of development plans of the team, and, indeed, high risks.
However, in the current market conditions, market value of many cryptos have significantly fallen. This opens up a new perspective on well-known projects at a low price. Let's dive into the analysis of small cap cryptos!
Low market cap is not always a sign of weakness or lack of growth prospects. Often, small-cap projects have significant growth potential. The low base effect gives them the opportunity to post gains in favorable market conditions. How to choose which project has exciting growth potential in the future?
One of the indicators used to evaluate the project is its fundraising activity. Attracting investment from large investment funds indicates that they see the potential of the project and are willing to support its development.
How to Find Next Low Cap Gem?
CryptoRank will help you find such projects in just a few minutes. Use filters to find such projects. For example, you can set them up like this:
Choose projects with low market capitalization, for example from $5M to $10M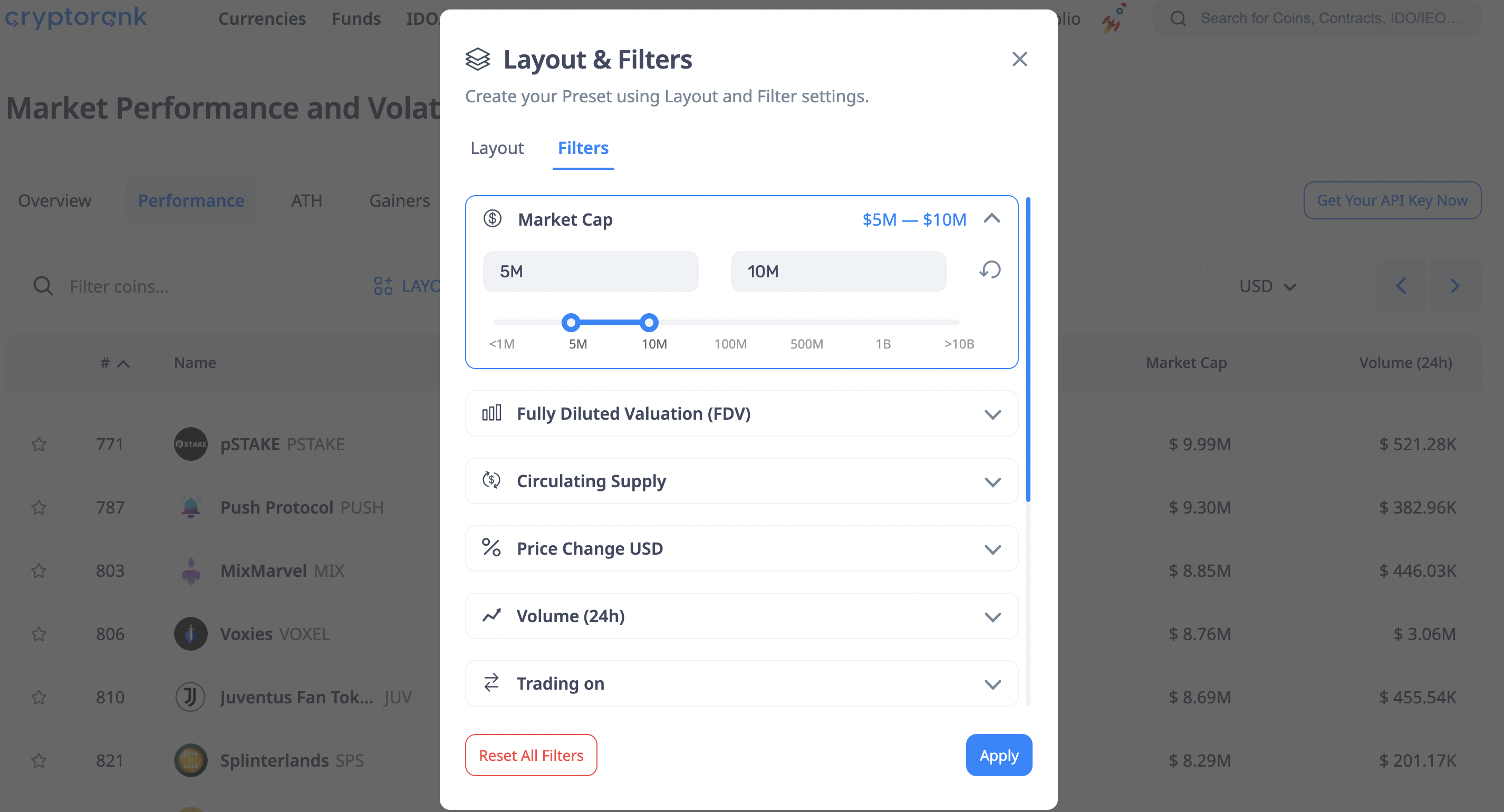 Filter projects that have received investment from leading crypto funds. We select only tier-1 funds: CoinBase Ventures, Andreessen Horowitz (a16z), Delphi Digital, HashKey Capital, Binance Labs, Pantera Capital, Polychain Capital, Multicoin Capital.
Now you can see projects with low market cap and significant price losses in 30 days that have received investment from leading VC funds.
All these projects showed a sharp decline in price over the past 30 days and now they have quite low market value. Nevertheless, all of these projects have been backed by leading venture capital funds, which gives more trust in their future.
Additionally, you can save these filters and layout as a preset to save your valuable time! Next time you visit CryptoRank to look for prospective low-caps, simply use your saved preset!
The Bottom Line
The support of the well-known backer does not automatically make the project successful. However, it does increase its chances of surviving negative market conditions and showing growth in the next bull run. Finding and analyzing such projects can be an effective strategy in current market conditions.
Interested in crypto analysis? Use CryptoRank's services for in-depth crypto research! https://cryptorank.io/performance