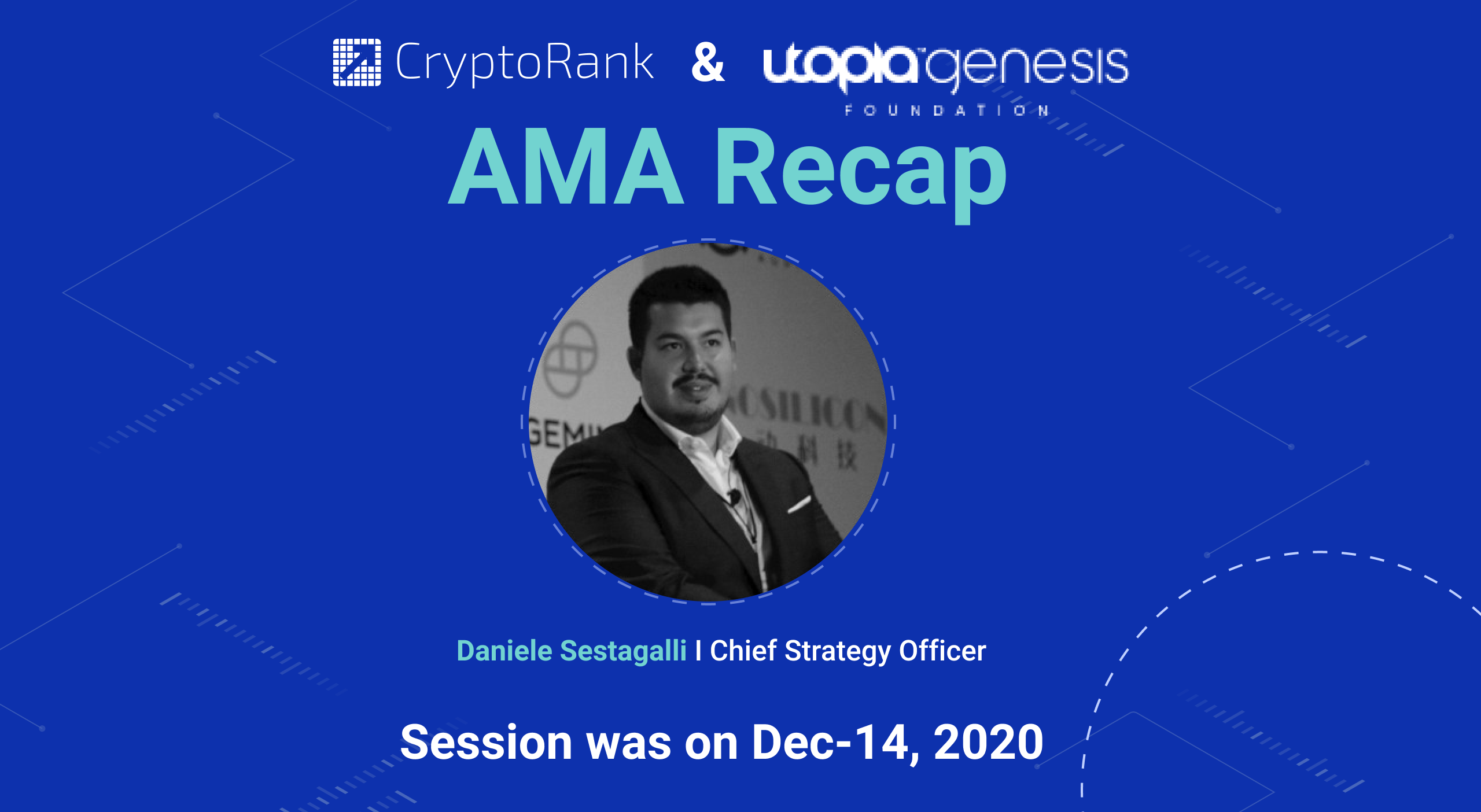 The Utopia Genesis Foundation will radically improve the music industry of today. UOP will provide the ecosystem needed to address the problems of today – promoting overall growth, sparking new innovation and unleashing a stream of creativity in the music industry.
This AMA allowed users to connect with Daniele Sestagalli, chief strategy officer , who answered the questions and listened to the feedback.
---
I'm Daniele Sestagalli. I'm a very old bitcoiner I've got my first BTCs back at the end of 2011. I have my own consulting and development company called Zulu Republic, we recently got featured on Bloomberg for the OKEx hack creating a way for people to trade the risk of being locked in the exchange. I've built also lite IM the first telegram and Facebook wallet with more than 1 M users.
---
Question from the CryptoRank team
#1. Can you tell us about Utopia Genesis? What problems do you solve, both in the space and for the community?
Daniele: – Utopia was born from Utopia Music AG. Utopia Music AG is the largest gatherer worldwide of consumption data. The closest competitor in data mining has 1/20 of the data points Utopia Music AG has. To be able to advance the music industry with such power like data we decided we needed to create an open and transparent environment to allow anyone to benefit from this data and upgrade the analog and old business of music and copyrights.
Blockchain was the perfect fit for 2 main reasons
1) Ability to issue proofs on our blockchain and ensure that the data is not compromised
2) Micropayments and Tokenization enabling a transparent open and democratic way to distribute, receive and sell royalties
This is what UOP is about, upgrading the system, today the music industry is analog and completely shady.
#2. Could you shortly describe the milestones Utopia Genesis have achieved, and about your upcoming plans?
Daniele: – We have deployed the beta of our blockchain, built the UOP wallet and Tokenbridge to peg erc20 to UOP blockchain. We have partnered with Stokr to bring Royalties tokens to the general consumer and just announced now partnered with terra virtua to bring NFCs of collectibles and merchandise to fans. We are aiming to release Delta, a full analytics platform for artists and labels in within 60 days and the tokenization platform in within 180 days.
---
CryptoRank community questions
#1. How are validators selected for the Utopia network? What are the penalties for a malicious validator?
Daniele: – Music Industry partners, Notaries and Law Firms, Blockchain established companies and Financial Intermediary can become validators. About penalties please look into POA.
---
#2. As an open source project, what is the strategy for getting developers to your platform? Are you planning to host hackathons and other events?
Daniele: – Definitely and we are going to give grants too, we are working with established and new projects already for q1 2021
---
#3. Do you have any plan for burning tokens in the future to reduce the supply of the token and increase its investment attractiveness?
Daniele: – Yea so the lockup's periods are pretty hardcore for the foundation, we are talking about 6 years since the IEO to have the whole supply unlocked. Additionally we are working on a 40% gross revenue burning strategy to reduce the supply
---
#4. Will Utopia Genesis platform have copyright protection and protection against plagiarism? How to understand who is the owner of the music and exactly he can claim the reward?
Daniele: – Compliance work is still an analog industry it will take effort and time to address that's where a lot of the raised funds will go.
---
#5. Presently, 38% of all artists revenues come from Radio Plays, how does Utopia Genesis aim to help artist diversify their revenue streams with your solution?
Daniele: – NFTs, Royalty tokens and data intelligence.